Book a Wedding DJ to Party With at Your Reception!
Click the button below to check if a wedding DJ is available for your date (and block other brides from stealing yours)!
Scroll down to see everything we can do to make your wedding unforgettable!
YES, we're open and we're taking bookings! Since so many events were postponed brides are rescheduling and dates are flying off the shelves.
Make the wedding of your dreams come to life.
It's a big day for you and you've been waiting for this day for how long?
My job is to learn what your vision of a perfect wedding is so you can have the wedding day that's inside your mind. If you can dream it, we can do it. The answer is always YES. My job is to bring it to life for your special day.
There is no "how is it normally done?" or "how do they normally do this?" The answer is that it's up to what you want!
This is your day. It should be your way – and I'm here to give it to you.
My job is to sit down with the bride and pull everything you want for your special day out of your head. I want to get a crystal clear vision of your perfect wedding. I want to learn your vision and make sure that it's all mapped out in a way that I can see it and you can see it.
When you wake up on your wedding day I want you to turn it over to me and go get married! You deserve to spend time with your family and friends and enjoy your special day without stressing about making all the pieces work together.
DJ/MC Service with Timeline Coordination
---
Personal Online Wedding Planning Account
---
4 Speakers (2 Main + 2 Side Fill Speakers)
---
Wireless Microphone for Toasts
---
T Bar Stand with Party Lights
---
Activities & Interactive Games
---
Guest Requests
Still partying after 4 hours? No problem! DJ Overtime is $100 per half hour.
Ceremony & Reception
5 hours
DJ/MC Service with Timeline Coordination
---
Personal Online Wedding Planning Account
---
4 Speakers (2 Main + 2 Side Fill Speakers)
---
Wireless Microphone for Toasts
---
T Bar Stand with Party Lights
---
Activities & Interactive Games
---
Guest Requests
---
PA System for Ceremony
---
1 Clip-On Lapel Mic
---
1 Handheld Wireless Mic
---
Background, Entrance & Exit Music
6 hours is available for $1295. After 6 hours DJ Overtime is $100 per half hour.
Fallon Love Ultimate Stress-Free Planning!
Full Package!
Day-of Coordination
---
6 hour DJ package
---
Planning Assistance For Vendors Such As:
---
Venue
---
Caterer
---
Cake Decorator
---
Make Up Artist, Hairdresser
---
Photographer
---
Decor
---
Timeline Planning
---
Cleanup Crew
Day-of coordination includes up to 12 hours on wedding day to keep the timeline on track, greet vendors, and setup/teardown
Add-ons & Enhancements
For a more stress-free experience, let us cross more off your to-do list by handling more pieces to the party puzzle!
Add Rehearsal $175
If you don't have a coordinator, we'll help you determine pairings, walking order in, spacing, timing, alter layout, and walking order out. Includes up to 2 hours to rehearse timing of bridal party, spacing, placement at altar and run through the ceremony both with and without music. (We bring a speaker and songs so your bridal party knows what to expect.)
Rehearsal Dinner $100 per hour
Would you like us to stay after rehearsal and play music during the dinner portion? We are happy to stay and play to prevent awkward silence. Includes up to 2 speakers depending on space allowance.
Polaroid Guest Book $200
This fun station will give guests an activity to do in their down time plus YOU get a unique and creative guest book! Includes 2 Cameras, 4 Rolls of Film, 1 Scrap Book, Scrap Book Materials (Pens, adhesives, stickers, glue, etc) & Table with Tablecloth.
Portable Power Source $75
For charging all devices with port chargers included.
Officiating Services $100
Includes day of, add rehearsal for $50. Fully custom wedding ceremony. Whether it be spiritual, religious, or purely a celebration of LOVE, Fallon will put together a ceremony that fits your style and caters to your specific love story. Includes Custom script, Performance of ceremony, Filling out of legal paperwork, Wireless lapel microphone (available upon request)
Fallon was absolutely amazing with my wedding. I was so proud to be her first Fallon Bride! She was helpful with planning and made sure everything ran smoothly. There was NOTHING for me to worry about. I've already recommended her for my sister-in-law's wedding and another friend's!
She was our officiant and our dj. She did an amazing idea! We had no idea how weddings really worked. She was open to us changing our minds and helped come up with a perfect script for the vows. She personable and we got tons of compliments through out the night about how great she was. If your considering it I highly recommend!!!
She was amazing!!! I planned this wedding from out of town and everything went smoothly. Fallon was professional, affordable and made the night go smoothly! She played some awesome music too! I highly recommend her ❤️
Fallon Love Productions is so much more than just a wedding DJ.
I'll coordinate your timeline, I'll make your announcements, and I'll make sure that the sound and flow goes off without a hitch. Well, maybe one – but that's where you come in.
I come out as an MC and a hostess but also I play music of course. I always bring a 2nd DJ to come with me so they can keep the music going at all times and I can make sure everything flows exactly the way you want it to.
Our staff likes to arrive at weddings at least 2 hours prior to music start time. We like to start music 30 minutes prior to your ceremony to make sure that your guests feel welcomed and that it sets a good tone as people come into the event.
We make your announcements leading into the ceremony to let people know to silence their cell phones. We'll make sure that the ceremony goes off perfectly.
We'll make sure that your officiant has a microphone, that your songs are played in the right order, and that everything goes exactly how you wanted it to.
As MCs we like to focus on transition and make sure that things flow from one thing to the next. From your cocktail hour we'll help you transition from your reintroduction through your dinner, your toasts, your cake, your special dances, and into the dance party time.
We'll do it in a way that feels natural but also in a way that make sure that everything actually happens.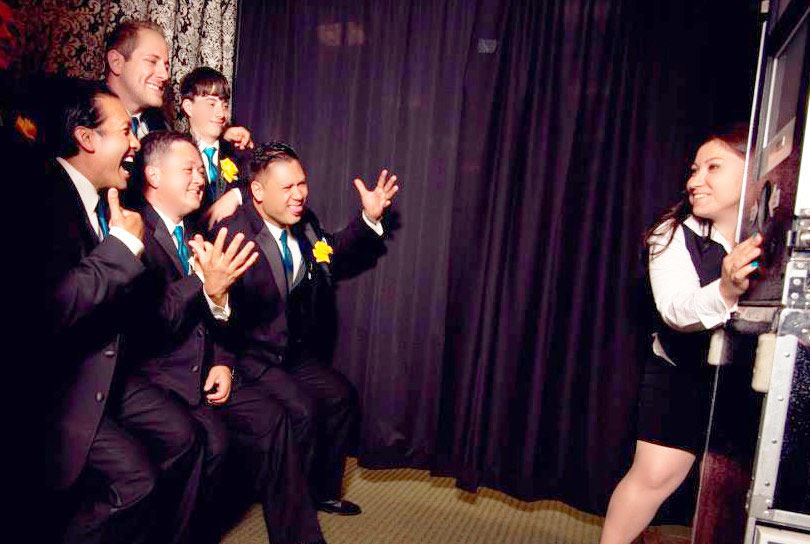 As DJ/MCs We'll Keep Your Wedding Reception Fun and Active!
When you take off after the ceremony you're going to want to take some pictures and sign your marriage license. That's when I'm going to step in as your wedding MC and hostess.
I'll make announcements and make sure that your friends and family know where you went, when you're coming back, and what they can be doing in the timeframe that you're gone.
Just knowing what's coming up keeps people there, and my job is to make sure that everybody feels like they're included in your day so that they stay and enjoy every minute that you've put together for them.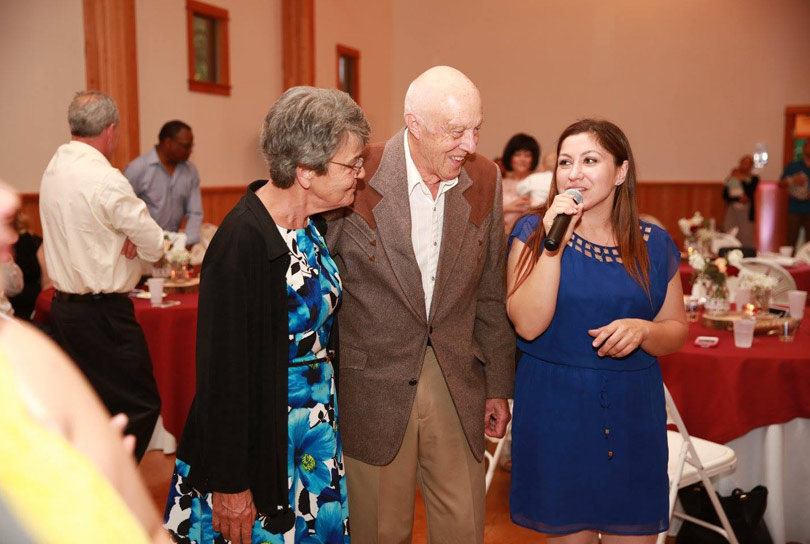 The biggest question people want to know is what about music?
I'll do as little or as much of the music planning process as you want.
I ask for:
your traditional songs
your ceremony music
your first dance
your father/daughter mother/son
The rest of it really is up to you!
If you can give me some must-play songs and some do-not play songs I'll put together a mix that blends well and matches your tastes for you. I'll make sure everybody in your party will hear something that they like.
I do take requests but I'll definitely give consideration to what their song requests are. Sometimes people like to make requests that are… less than appropriate. If it's not appropriate I might not play it. I choose to play music that everybody can enjoy.
Unless it's time for the dance party and you really, really want it I'll probably play the radio edit.
Fallon and her team are beyond excellent. I'm not exaggerating when I say Fallon Love Productions was my favorite vendor and someone I have recommended to all my friends. She's also someone I honestly liked working with so much I'm probably going to find an excuse to need a DJ for something else in the future just because.
She was professional and responsive during the entire process. She was gifted at arranging music to get my shy, stiff family on the dance floor that was exactly to my taste, even though I struggled to give her much to put on the play list!
She was able to travel down to Southern Oregon for my wedding at a very reasonable price, which was awesome since I first saw her here in Portland at a wedding and was afraid I wouldn't be able to have her at mine.
She also went above and beyond helping find a special song for my groom that is from back home for him (in Burkina Faso) and which we could only find a low quality YouTube music video version of. But she made it happen and it played at our wedding!
Beyond the music provided she was also an incredibly sweet, calming presence. There was one moment during dinner when I was getting stressed out about something small (because bride…) and she came over to me and calmed me right down. That wasn't her job and I was honestly surprised she even noticed my distress from across the floor. But that just shows how attentive she is to you and the mood in the room. It was amazing.
Do yourself a big favor and book Fallon and her team. You won't regret it.
So why should you hire Fallon Love Productions
as your Wedding MC & DJ?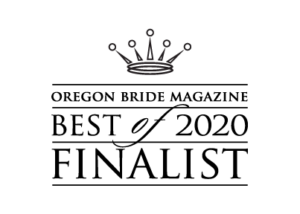 I've been doing this for more than 10 years and it never gets old. I am so passionate about giving people the day of their dreams.
I live this experience with you and I hope to become friends with you, even after the big day. We're a full time wedding company and we're professionals who are here for you.
We're professionally insured and licensed by the state of Oregon.
Fallon Love Productions has been nominated by Oregon Bride magazine for best DJ of the year outside of Portland 3 years in a row.
Another thing that sets us apart from other DJs is that we bring out 2 people.
One of the things we take pride in is that we're very inclusive in what we include in our packages. Not all DJs include the same things, so we always make sure that you compare apples to apples.
We bring out 4 speakers in order to make sure we have surround sound and can manage. we don't want grandma being blasted in the front while people in the back can't hear the toasts.
We bring basic party lighting for you. And if you'd like to upgrade, we also have amazing uplights that I recommend highly.
In a world full of hate, Fallon Love Productions stands for love.
Sometimes I find that my couples have a hard time finding very accepting vendors. I want you to know that Fallon Love Productions is all inclusive.
We proudly support all marriage and all love.
If you have an alternative wedding we are definitely the ladies for you. We're LGBTQI+ friendly and we accept anyone regardless of gender, age, orientation, race… you name it. Fallon Love Productions is here for you to feel safe and welcome because love is love and everyone deserves the wedding of their dreams.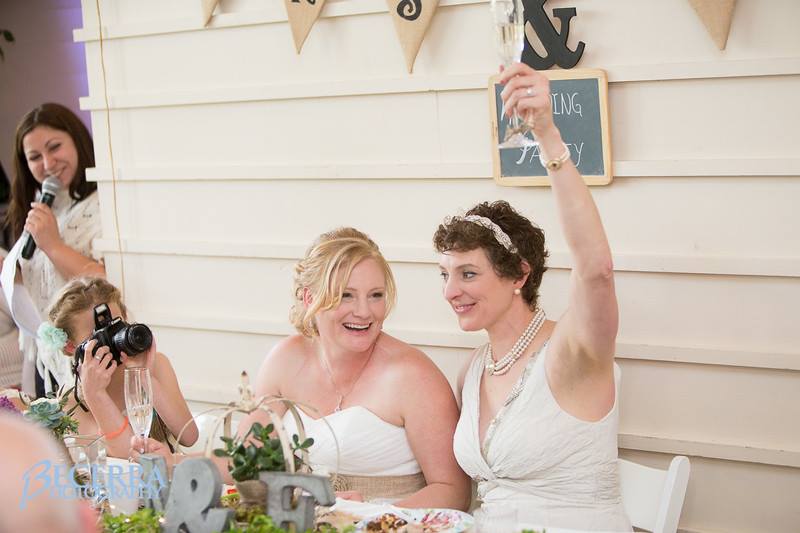 We could keep telling you how awesome your wedding will be with Fallon Love Productions, but we'll let our clients tell you themselves.
From the first day I booked Fallon for my wedding to the time she was packing up and heading out, her and her crew were FANTASTIC! We had an outdoor ceremony with an indoor reception and she covered both beautifully! She's truly so much more than a DJ! She's a wedding planner and although I didn't hire for that she ALWAYS answered her phone for any random wedding question I had. I never felt like I was an inconvenience to her. She was was also a blessing at our ceremony because we never did a rehearsal and she just jumped right in (after I asked- not being pushy) and gave us the direction we needed! As if all that wasn't enough She offered fun extras like giant Jenga, giant connect 4 (to name only a few) and she has a full karaoke set up which was AMAZING for this karaoke lover! I didn't feel I had to worry about anything while she was there. She checked in often, she made sure my husband and I were happy, and my guests were pleased! She made my whole wedding experience extra special and I highly recommend you give her a call for your events!
We had the honor of having Fallon be our DJ at our wedding on June 10th & I honestly couldn't imagine anyone else doing it! Fallon not only was our DJ but she scheduled the whole entire day from music walking down the aisle to announcing when we were doing all the activities. Everyone had such a great time we kept her an extra hour overtime & was so sad for it to be over & for her to go back home. I never even met her before the wedding, it was only over fb & I wish I could have met her before just because she is such a fun person! She played all the great hits from 80's to music now a days & it was a complete blast! She definitely got the crowd going & I'm sad we have no videos cause the last song was the Cupid shuffle & I had atleast 25 of us doing it! What a great time! I highly recommend Fallon to be ur DJ u won't be let down! We loved her so much we asked her to DJ our 1 year anniversary party! Thank u so much again Fallon we really really appreciated it so much. Very thankful to have a caring thoughtful DJ like u that was super helpful & cared what kind of plan & music we wanted & was just straight up the best ever! I hope u do great in ur career & give baby a kiss from us! See u next year!
Fallon is Amazing! I'm a wedding photographer and I haven't met to many DJ's I get along with. She's so fun and has a great personality… Has great taste in music and always seemed to give her clients what they asked for.
Fallon did an amazing job at our wedding! She helped us with every step and really stepped up and went above and beyond after our wedding planner cancelled 10 days before our wedding. She was fabulous and I would recommend her for any event you have!
We had the best experience with Fallon! She was amazing and professional and kept the wedding moving right along and on schedule!!! You will not be disappointed if you need a DJ for any event!!! Thank you, Fallon!
Very personable and involved. Very accommodating and flexible. Highly recommend Fallon Love and team.
We were at a wedding reception with Fallon & she kept the tunes coming & people dancing! I would recommend her to anyone!
Absolutely amazing to work with and so much fun!!! Our wedding was perfect! Fallon did a great job and is so personable she was the perfect fit! 5 stars
She was great! Definitely was the one who made the wedding! Will use her time and time again if dj is needed! ?
Fallon and her back up was amazing the day of our Wedding. I had the venue owner trying to get her contact information for future wedding he might have, I assume because she was so on top of it! Our wedding was delayed a whole hour due to guests not being on time. Fallon was so organized and on top of what needed to be done and when. She knew the right things to cut out and keep in order to stay on time with my departure. She was the most friendly and of course made herself right at home with the rest of the guests, her personality was a perfect fit. If you are looking for someone that will make things happen day of and moving than she is your lady. I booked Fallon 6 months or so prior to the wedding and anytime I had questions or concerns she was a phone call away and was always happy to hear from me. I love Fallon!
We can not rave enough about how great it was to work with DJ Fallon for our wedding day! From our first conversation I knew we made the right choice from her personality and professionalism. Not only did DJ Fallon do everything we asked for our day, she made sure to add in extra details that made our day that much more spacial. For example, we briefly mentioned to her on our wedding day that our one year old son had a favorite song that if she had time to find it we would love for it to be played. There was such little notice on this that when DJ Fallon made the announcement of our son's favorite song it was the best surprise, and the happiness on his face is one of our favorite memories from the day. Not only will DJ Fallon add in these extra things to make our day even more special, she even made sure to coordinate with our timeline and other vendors so we did not have to worry about a thing. Can not recommend DJ Fallon enough!
Fallon has that spark that "personality plus" as my grandmother used to say about people and she is uber prepared. I watched her DJ a wedding I was attending where the building lost power. She was prepared with a backup generator of her own and the party went on!
She did a great job at my wedding keeping everything organized and on track and made sure we got everything we asked for. She went above and beyond by helping light candles and cleaning up. She is well worth the money and just all around a nice person.
Fallon was amazing! I couldn't have asked for a better Dj for my wedding! She was so fun, great at making announcements and I got a ton comments on how great of a job she did!! Thank you, Fallon, for making our day so fun, it was wonderful to have you there!
Fallon was the DJ at my wedding on 9/28 and I cannot recommend her enough! I had a detailed itinerary drawn up for our wedding party and vendors and she made sure to stay on point. The music was wonderful and the lighting provided added such a fun ambiance to the evening and dancing. We are so happy with how it turned out and our guests had so much fun dancing to all the tunes she played. Thank you, thank you, thank you!! ❤️
When I was looking for a DJ for my wedding, I had no idea how to find a good one. I was drawn to Fallon Love Productions because they have lawn games available to rent. Announcements and the music at my wedding were great and the DJ was very professional. The lawn games were also very popular at my reception! I definitely recommend this company.
Fallon was the DJ for my sister's wedding in May. She was fantastic! She came and did the rehearsal for us the night before, which was super helpful. During the wedding she did magnificent, the ceremony's music was spot on, the music and the announcing was perfect and everyone loved the music selections. I can't recommend her enough for your next event!
Fallon and her crew were absolutely amazing! They were fun, energetic and creative. There was an unexpected loss of power in the middle of the reception and they had such a great backup plan, it was hardly noticeable! Fallon also took extra time to help me plan last minute details before the wedding. I can't speak highly enough of her. Thank you so much for helping make our special day so fun and enjoyable<3
Fallon and her team are the BEST! So easy to work with and fun! They brought the best jams and made sure the party was going all night. She even learned the names of our bridal party to keep the dance floor interactive!
Fallon was the best hands down, she not only met with us multiple times before the event to make sure everything would go the way we wanted it to, but she also came to our rehearsal the night before. The rehearsal at our venue an hour from Eugene, she did that and helped us time everything so that the next day would be a smooth process. The best part was how much she listened and never pushed or got annoyed, Fallon took every idea we had and executed it to perfection. I would recommend Fallon to everyone, if you need it done she's the one to do it, even if it's like herding cats she will make it happen. Thank you Fallon!
I would 1000% recommend Fallon as your dj! We had the most amazing time on our special day. And every single person at my wedding was up and dancing, thanks to her. She also will make sure that everything goes smoothly and she is just an all around wonderful person to work with
Fallon Love was the DJ at my daughters wedding this past August and we couldn't have been more pleased with her professionalism, friendliness, and understanding. From our first meeting with her and all the way thru until the last song was played was outstanding! She listened to what the couple wanted to have played and the songs she added to the playlist were perfect. She did a pre-wedding walk through so we could ask questions and get details finalized before the rehearsal. Fallon was fabulous to work with. We highly recommend her!!!
Fallon was absolutely amazing, our day would not have been what it was without her. I got compliments at every corner. The venue owner requested her info and my uncles came to tell me the music was all of their favorites. My dad was break dancing! Fallon was so organized day of, she gave me a heads up when she needed me and where. Our wedding was a whole hour late at starting but not once did I notice that or even the crowd.I cant recommend this lady enough. She put my heart at rest the day of our first meeting , I knew we were in good hands. I stressed very little to none thanks to her!
Here's what happens when you're ready to book your DJ/MC
Let me walk you through how the process is going to go when you book with Fallon Love Productions.
After you sign your contract and put in your retainer now it's time for the fun stuff. It's time for the online planning guide.
You're going to get your own account with questionnaires and guides.
I'd like you to put in your timeline
I'd like you to fill out the wedding planning questionnaire
I'd like you to put in some music. Definitely put in 10 of your must plays and 3 of your do-not-play songs
…and I'll help you as much or as little as you want!
If you want to just pick out your first dance, your father/daughter mother/son, and ceremony music, I'll do the rest.
I'll fill in the gaps, I'll take requests during the reception, and I'll make sure everything that comes out of the speakers is clean and light and fun. Your guests are gonna have the best time!
If you're worried about specific details in your online planning guide you can call us and ask for help, but here are a few tips:
Your timeline doesn't need to include every single time to the minute for every activity in your day. As long as you put in the order, I'll make sure that it flows. As MC I'll make announcements so everybody knows what's going on and what's coming up. I'll be checking in with the bartender, the planners, and other vendors to see where everything is and make sure it all flows together. You just sit back and enjoy your wedding!
The thing about timelines is that there's no guarantee that we're going to be able to keep it minute by minute by minute. Sometimes we're playing with the sunlight, sometimes dinner is a few minutes late, there are plenty of different little issue that come up… but my job is to make sure that you (and your guests!) don't find out about or even notice any of the hiccups.
We'll make sure that everything gets moved around so the flow keeps moving and we don't miss a beat no matter what happens.
Once you book with me you're stuck with me!
I like to be a resource for any need, even if it's not for a service that you've booked with me.
The process can get really stressful. As the days and weeks and months go by if you need me I'm here for you. If you'd like recommendations for vendors, or you're just super excited about a new idea, or you're having a freak-out moment about whatever and you need help – give me a call or text!
I'm here for you brides day or night 24/7. If I'm awake I'm going to answer you immediately.
And Grooms I'm here for you, too – Monday through Friday from 9 am to 6 pm.
About a week before you get married I'm going to reach out and chat with you to make sure we have the feel of what you're looking for.
48 hours before your wedding the system is going to lock you out. Then we're going to go in and make sure that everything is completely filled out. Then we're going to check in with you again!
My goal is to give you the day of your dreams. There's no cookie cutter way to give you what you want. You know what you want, and your style is going to be different than this bride or that bride.
We get one chance to make it right, and I'm going to make it right.
There are a lot of things that are going to stress you out in this process and we want to make sure we're the least stressful piece to your day.
Go enjoy your day. Go mingle with your loved ones. Go dance the night away. I've got you!
Most amazing time , great prices, great times always smiles!:) I'd always go with Fallon!
Professional and accommodating. We used Fallon Love for sound only. Booking was very easy and setup/tear down went very smoothly!
Fallon was amazing she was reasonable and extremely helpful and flexible
Reserve Your Wedding Date!
Contact Fallon Love and Schedule Your Event